Creating wide-open spaces and allowing natural light to flood into your home, our range of Bi-Folding doors will transform how you use your home. Made to fit any sized space, with designs from two-door leaf upwards, Bi-Folding doors allow you to instantly change the entire dynamics of your home with nothing more than a gentle push.
From bringing the outside into your home to creating useful new living spaces by separating existing rooms, Bi-Folding doors can be installed anywhere in your home, providing you with endless possibilities. This includes in conservatories and orangeries. Bi-Folding doors are perhaps unrivalled in terms of the benefits they provide.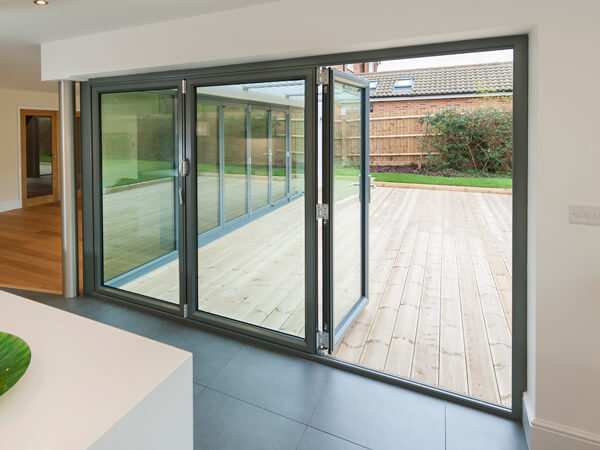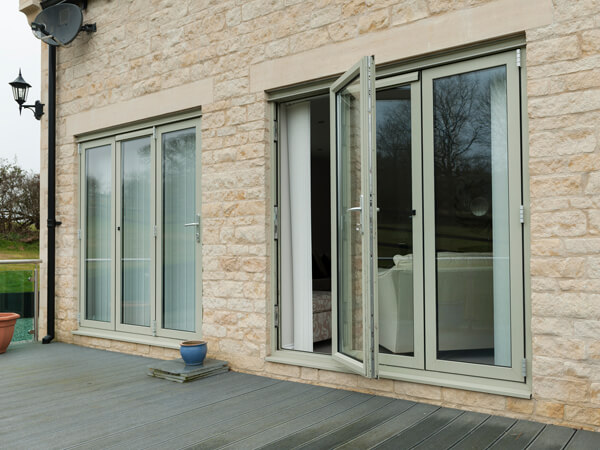 Bi-Fold Doors
The simplicity with which a set of bi-folding doors move is quite incredible. You hardly need to put in any effort to get them gliding and folding along the track.
Click on the various hotspots to find out more about the main features of our aluminium bi-folding doors.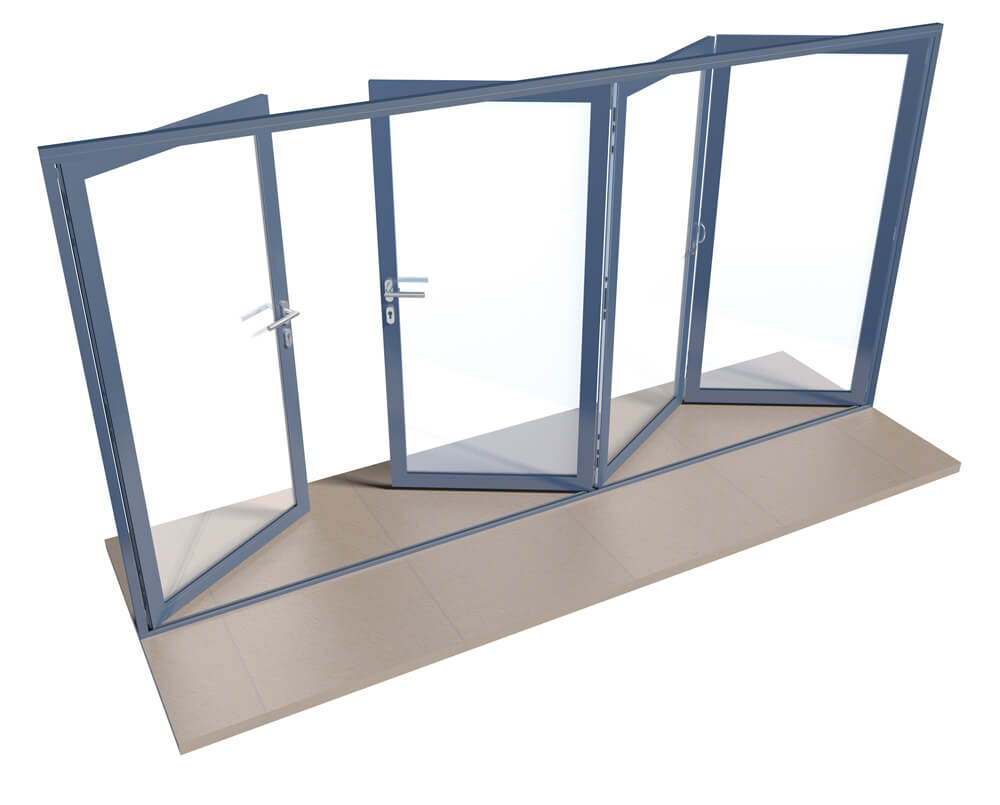 Bi-Fold Frame
Our Bi-Fold frames boast maximum warmth and security and slide effortlessly to the side to make the most of your space. You can even incorporate a discreet passenger door for everyday entry.
Bi-Fold hardware
Our Bi-Fold Door Handles come in a range of colours to suit your home, they're built to last with robust materials and quality finishes.
Bi-Fold Easy Glide System
The sliding operation of a bi-folding door relies on a high-quality stainless-steel track on which quad rollers, which are fitted to the door leafs, glide along in elegant fashion. The same quad rollers are fitted with a small brush on one end to keep the tracks free of dust and dirt.
Bi-Fold Low Threshold
Low level thresholds increase the ease of access for everyone involved. An optional outer and inner ramp can be added on to the threshold to further enhance the accessibility for wheelchair users.
Secure and stylish in one single design…
Bi-folding doors are beautiful and they're also supremely secure, thanks to the inclusion of a multi-point locking system. This lock engages at different points, and in various directions, into a tough lock keep.
Adding to the strength and security of our bi-folding doors is the double or triple glazed units that we include in their design. Breaking the glass is near impossible and it's thermally efficient. Tested cylinder locks are housed by high security master handles to minimise the risk of them being forced open.
COMPLETE THE DESIGN IN STYLE
Once you have advised the Visual team of your choice of glazing and hardware for our aluminium bi-folding doors, we'll get on with designing and manufacturing them.
We offer several configurations to accommodate your needs…
No home is the same and every customer has their specific desires, so that's why we are happy to configure our bi-folding doors in various sizes, as well as in lots of colours. We have installed bi-folding doors that connect two internal spaces, but the most typical request is for a bi-fold sits between indoor and outdoor settings.
All the best-loved colours and many unexpected shades…
Just wait until you see the extent of our colour palette for bi-folding doors. We specialise in sublimated woodgrain finishes, like Walnut, Rosewood and Oak, and have a host of powder-coated colours, from traditional to contemporary favourites.
One colour may not be enough for you. That's when you could go for a dual-colour, where you have one colour on the outside of the bi-folding doors and a separate finish on the inside, giving you the best of both worlds.
The handle is far more than just a finer detail…
In general, one of three handle types will be used in a bi-folding door, however its configured. Pass doors and integrated French doors will require a master handle which will house a cylinder lock and will be used to engage the multi-point locking system when the bi-fold door is in the closed position.
There will also be both a D-handle and intermediate handle present on each bi-folding section. The job of the intermediate handle is to release the folding panes from the door frame when opening and re-engage them when closing. As for the D-handle, you use that to push or pull the folding panes. You can also get contemporary and traditional master handles in our hardware suite, which will be colour-matched to the intermediate and D-handles.
REQUEST YOUR FREE DOOR QUOTE
Simply fill in your details for your free, no obligation quotation, and click "Get Quote"
NEED MORE INSPIRATION? DOWNLOAD A BROCHURE
Simply select the brochure(s) you would like to browse, fill in your details, and then click 'Download'.
Step 1 - Please select the brochure(s) you would like:
OUR FINANCE CALCULATOR
See how affordable your home improvement can be with our Finance Calculator.
Our friendly team will be pleased to help with any questions you may have.