Will a tiled roof or glass roof be the best option?
To select between the two roofing systems, think about how you want to use the room, which direction it faces, and factor in your available budget. If you want lots of natural light to fill the space and are keen to have a pleasant garden view, we recommend including solar control glazing in the roof, which will also help with temperature control.
To get the feel of a year-round extension, a solid tiled roof is probably your best bet, and you can also have full length glass panels or Velux windows added to it, giving you a perfect hybrid of a solid and glass roof and their respective benefits.
Chat through our many roofing options with a Visual advisor to find the right solution.
Is it worth replacing the frames too?
Your existing frames will be as old as the roof that you're replacing, so it would seem logical to upgrade your window frames at the same time as having a new roof installed. Doing so will result in a conservatory that offers a far higher standard of thermal efficiency.
If you keep your old frames, they could undo all the hard work done by your new roof, leaving you with a conservatory that still feels unpleasantly cold and draughty. We can work out a fantastic deal for new frames with a new roof, if you wish to give your conservatory a proper upgrade.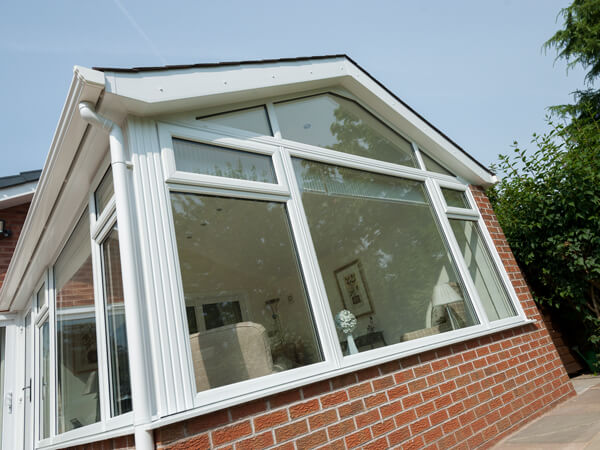 MORE COMMON QUESTIONS
Our advisors are incredibly knowledgeable and will have the answers to any of your roof-related questions. Here are some common questions they regularly get asked.
What do you make replacement tiled roofs from?
Much of a replacement solid roof is prefabricated, prior to being brought to your home, so that the installation process is quick and efficient. After measuring up your conservatory, the new roof will be customised to fit the design and style.
As for what it's made of, a replacement tiled roof largely consists of a pre-engineered lightweight frame, insulating panels, insulated fire-grade plasterboard, exterior grade plywood and impenetrable membrane. Several tiled finishes are available, and you can include solar panels to make your conservatory look like an extension of your home.
What is a Clad over roof?
Weight: Because a clad over roof uses heavy timber, insulation materials and tiles, it can make it too weighty for some existing frames. You need something that's far lighter. The lightest solid roof systems weigh around 31KG/M ².
Tip: Always ask your installer for the total unit weight of the new roof per Sq.M
Fire Safety: Another downside to a 'clad-over' system is that it doesn't comply with current fire safety regulations due to not being effectively fire tested as a complete roof structure. As a result, it also won't meet this part of building regulations. The structure of old conservatories can vary and only some individual components may have been tested. Solid roofs must be classified as AC, AB or AA in accordance with BS476-3.
Tip: Ask to see the fire safety certificate of the entire roof system before you commit to the project.
Building Regulations: It can be virtually impossible to obtain Building Regulations Approval for a clad over system because of their poor thermal value and structural integrity. This is a totally different thing to planning permission, something that's generally not required. You will have to inform Building Control if you are proposing to modify a structure (including replacing a glass or polycarbonate conservatory roof with a solid roof). Once you have their approval, it confirms that the new roof is structurally sound.
Tip: Check that local Building Control has been informed before the conversion starts. Obtain a Building Regulations 'Final' Certificate and file it in a safe place.
Will my new roof solve the problem of being too hot in summer and too cool in winter?
A solid tiled roof from Visual will prevent your conservatory from ever getting freezing cold in winter and too hot in summer again. This is regularly the case in conservatories that have an outdated polycarbonate roof. A solar control glazed roof will have a noticeable impact, but if you want a conservatory you can use in comfort day in, day out, a tiled roof will be the product to turn to.
I want to understand more about energy rated windows! What does 'A' rated windows mean?
An 'A' rated window is the most energy efficient window you can buy in the UK, as defined by the BFRC Rating Scheme. All replacement windows sold in this country are rated in this way and the energy rating of a window also tells you whether it complies with current Building Regulations.
Window Energy Ratings follow a consumer-friendly traffic light system, one that's very similar to the energy ratings found on 'white' goods e.g., fridges, freezers, washing machines. Knowing the energy efficiency rating of a set of replacement windows enables you to make a more informed buying choice.
How much will it cost to replace my existing roof?
For a small conservatory roof, you're looking at paying anything from £5,000, while a larger conservatory roof will be around £12,000. You can always spread the cost of paying for a new roof over a fixed number of months. Try out our finance calculator to figure out a payment plan that works for you and fits with your budget.
How long will it take to replace my existing conservatory roof?
We can usually install a tiled solid roof in a matter of days, so there will be very little disruption at your home.
Do I need planning permission to replace an existing roof?
For a roof on an existing structure, planning permission will not be required. However, Buildings Regulations Control is mandatory, and you will need proof of this when selling.
Do I need Building Regulations Approval?
The obtaining of Building Regulations Approval from your local planning department provides evidence that the roofing system has been inspected rigorously by a government approved building control officer, is installed to the necessary standard and is both structurally sound and thermally efficient. It will also avoid any hold-ups when selling your house, as without this approval, any unauthorised works could delay a sale.
Do you offer finance to help me pay for my replacement roof?
Yes. To make life easy for you, Visual can arrange a variety of affordable and convenient easy payment finance options (subject to application & status). Applying for finance is simple and we promise you a quick decision. Everything can be sorted out with you in the comfort of your Yorkshire home or at our Mirfield Showroom, so you can enjoy whatever you've set your heart on right away.
What do we need to do when our finance is approved?
If you're arranging your own finance, you'll need to call us as soon as you get the go ahead. If you're taking up one of our offers, the company will tell us both directly, so there's no need to call as we will get in touch with you.
What happens if finance is refused?
Finance companies can turn down people for lots of reasons, for example if you've moved several times over the past few years. In these circumstances, we always do our best to help and sometimes it's worth trying another provider, especially if they know you.
I've applied for finance with Visual. How long will approval take?
Sometimes our finance company will say 'yes' almost immediately and on other occasions it may take them a few days. This short delay can be for any number of reasons and you should not be unduly concerned.
OUR FINANCE CALCULATOR
See how affordable your home improvement can be with our Finance Calculator.
NEED MORE ANSWERS?
Simply fill in your details below and one of our customer advisors will get in touch to answer any of your questions.
Our friendly team will be pleased to help with any questions you may have.