Opening in seconds and designed to fit any space, patio sliding doors are a great way to inject some new life into your home. As a patio door slides back onto itself it means that it will take up virtually no space. As a result, they can be fitted almost anywhere in your home, with them being especially good at dividing an existing space into two separate living areas. Their large, elegant glass panes create a feeling of great spaciousness.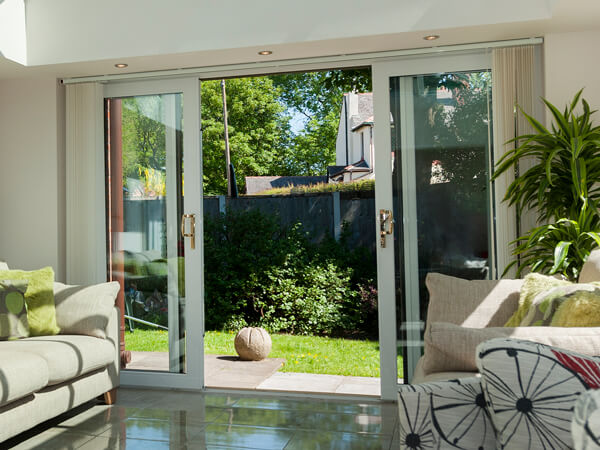 As with all our products, you have complete freedom when it comes to your patio doors, even in regard to which way they open. Thanks to their enormous practicality and versatility, patio sliding doors can be used in a variety of ways and locations.
Featuring easy-glide rollers and the very latest, most durable materials, our patio doors will stand the test of time and continue to look brand new with nothing more than a quick wipe with a cloth. From 2, 3, or 4 pane doors, we ensure enough options to guarantee you get the best doors.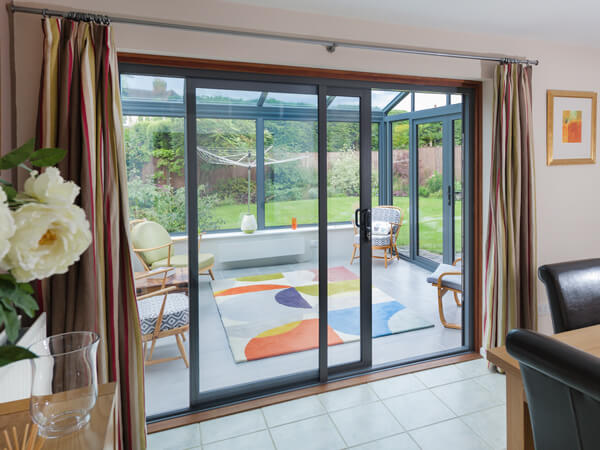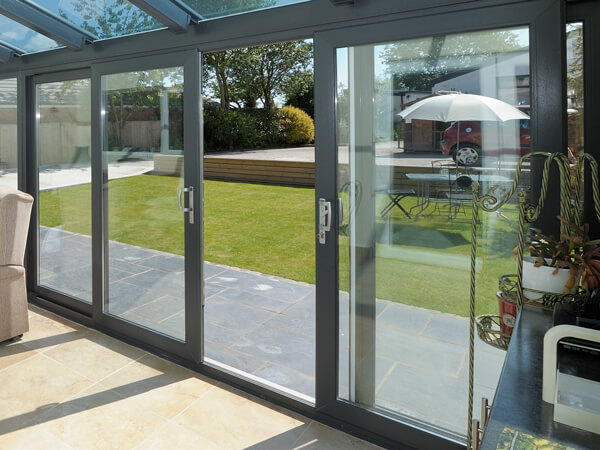 A PATIO DOOR IS A PRACTICAL CHOICE
The usefulness of a patio door will only become fully apparent once you have one integrated into some part of your home. Most commonly, it will be added to a rear wall to make garden access that bit more simplistic, just what you need during the warm summer months. Working via a sliding motion, it avoids the problem of valuable space being taken up when in an open position, and that sliding motion is so effortless, with you barely needing to put in any effort to make it move from one end of the track to the other.
An aluminium door is predominantly glazed due to its sleek design…
Aluminium is a seriously tough material but that hasn't stopped us from managing to create a range of aluminium doors that are as sleek as they come. There's so much glass in them, which you don't get in most door offerings, and it's the richness of glazing that singles them out from all our other door products.
A major feature of an aluminium door from Visual is the intricate contour on the outer frame. This gives it so much charm, the type of charm normally found in a timber door. Our powder-coated finish also contributes to that.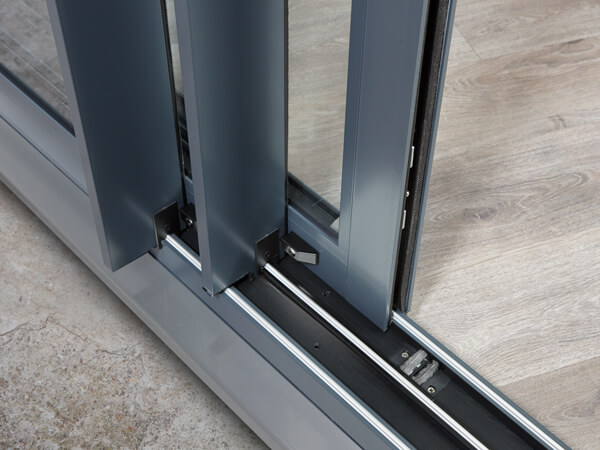 The quality of our aluminium finishes is all down to them being powder-coated…
During the 11-stage powder coating process that Visual practices to apply the finishes to our aluminium doors, it induces strong paint adhesions and gives the colour an extra richness. Our aluminium woodgrains are created rather differently, using a process called sublimation. This results in Walnut, Rosewood and Oak finishes that would easily persuade you that they are in fact true timber effects.
UPVC isn't just highly affordable, but it's easy to maintain too…
UPVC is a material that never fails you, hence why so many homeowners have UPVC doors at their home. When the material gets dirty, all it takes is a wipe with a wet cloth to return it to a pristine state, and UPVC offers excellent energy efficiency, helping you to keep heater usage to a minimum, without going cold. What it saves you in energy costs will justify what you pay for a UPVC door.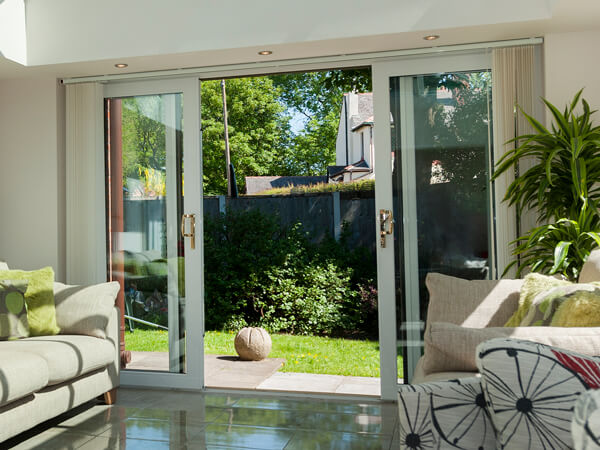 Finish our UPVC collection in either a textured woodgrain or smooth surface finish…
The UPVC doors that we sell at Visual are available in just about every colour you can think of, not just traditional white. Not to say there's anything wrong with a classic white, there isn't, but we know that customers expect a generous colour palette and we're only too happy to deliver that, with finishes ranging from Chartwell Green to Grey.
REQUEST YOUR FREE DOOR QUOTE
Simply fill in your details for your free, no obligation quotation, and click "Get Quote"
NEED MORE INSPIRATION? DOWNLOAD A BROCHURE
Simply select the brochure(s) you would like to browse, fill in your details, and then click 'Download'.
Step 1 - Please select the brochure(s) you would like:
OUR FINANCE CALCULATOR
See how affordable your home improvement can be with our Finance Calculator.
Our friendly team will be pleased to help with any questions you may have.