Stable doors have so much character and have something different to any other door. You see them used a lot at farms and horse stables, and it's the practicality of them that appeals to most people who own one.
We can tell you now that you won't find stable doors of a similar quality anywhere in West Yorkshire or elsewhere for that matter.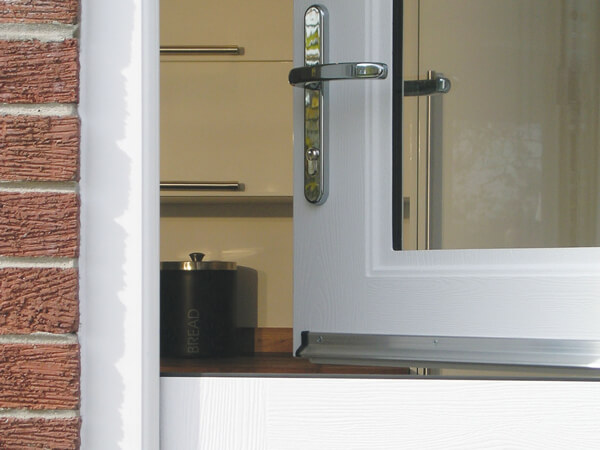 A stable door is split into two sections, and you can open the top and bottom halves of the design separately. This comes in useful if you want to leave the top section open and bottom section closed so that kids or pets can't run out.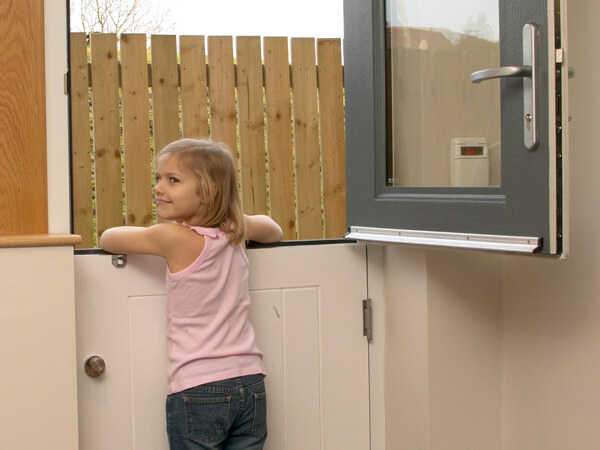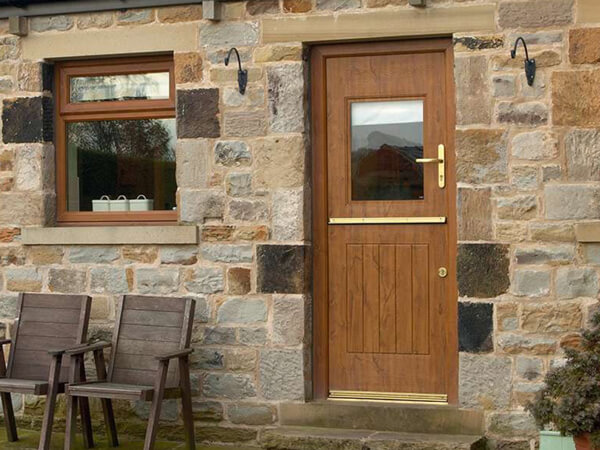 Composite door features at a glance...
Our composite doors have a GRP finish, which is weatherproof, as proved in tests where they have been subjected to hurricane-like conditions. The weather will never sink its teeth to them and that includes when it's tremendously hot or tremendously cold.
To know what makes our composite doors so special, just have a look at the hotspots opposite.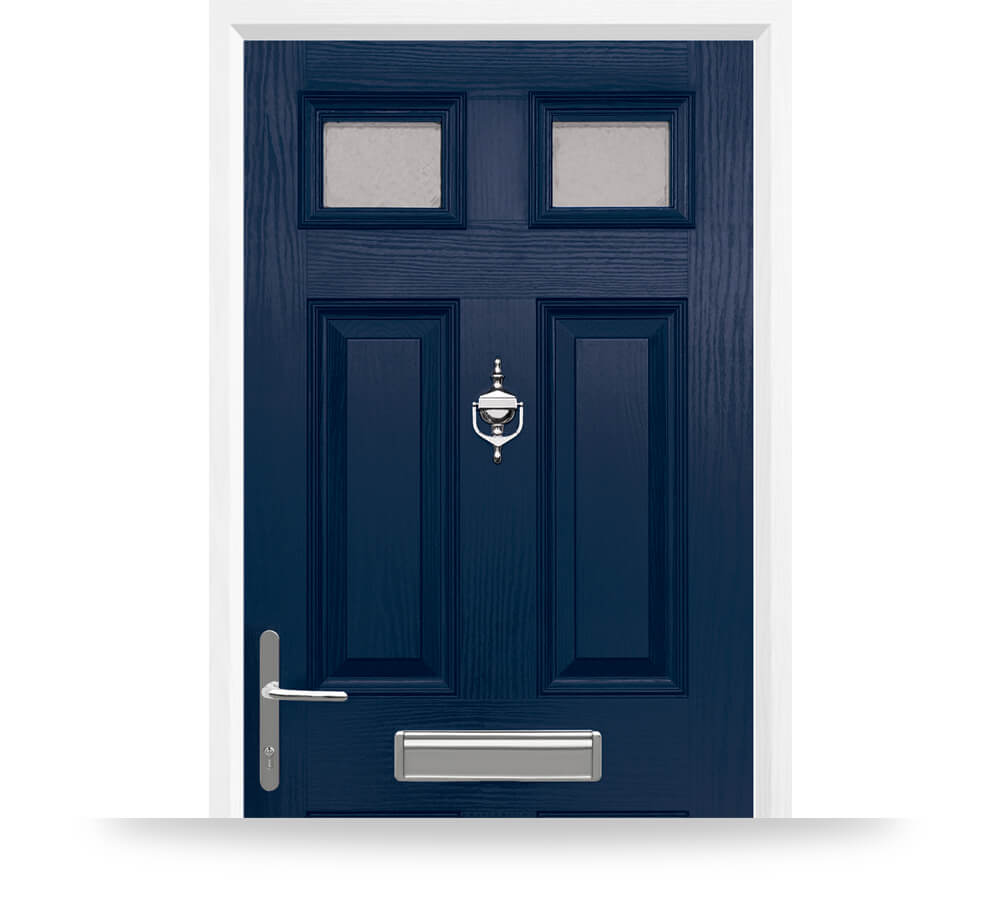 Frontline Security
High-security multi point lock which engages automatically upon closing so no need to lift the handle to engage your door, which means no more draughts or cold spots.
Frontline Hardware
Our Frontline Composite Doors come with a range of hardware including letterboxes, knockers and handles in a variety of colours to suit your home, they're built to last with robust materials and quality finishes.
Frontline Hinges
Anti-crowbar technology that delivers ultimate strength. Horizontal and vertical adjustment that results in 360-degree compression on seals for weather tightness.
Frontline Glazing
Available with a wide range of glazing styles, including obscure and decorative glass.
Security concerns can become a thing of the past…
A composite door from Visual will look after your home as there's no getting past one. The standard of thermal efficiency offered by these composite doors is noteworthy too as any draughts that currently invade your living space will be gone for good, leaving you with a wonderfully cosy house. A warmer home will also make for a cheaper energy bill, going some way towards repaying the cost of the door.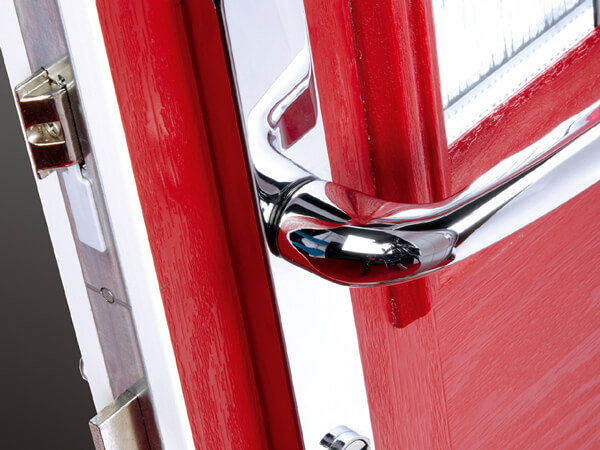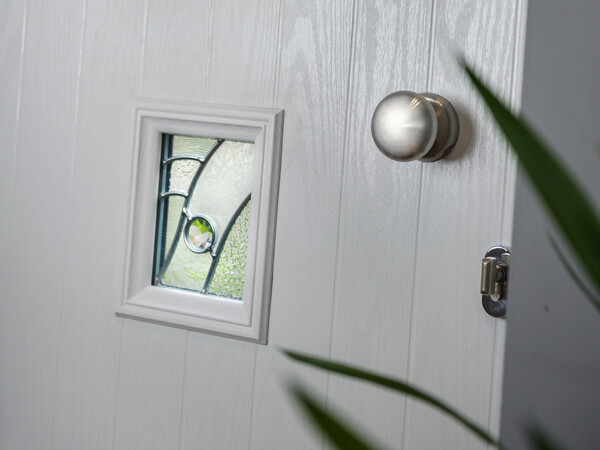 GET A BESPOKE COMPOSITE DOOR
We put so much into our composite doors which explains why they last for so long. Because you will get years out of the door you buy, make sure that the design is entirely to your taste so that you never tire of looking at it. You can even customise the type of glass and hardware it incorporates. If you need some advice at any stage, just ask the consultant for guidance, and you can always be shown a digital impression of the door at your house.
Your composite door will be hugely enhanced by our diverse colour range...
If you're a traditionalist at heart then you'll be pleased to know that our composite doors are available in classic colours including black, white, red, and blue. For those seeking something a little bit different to everybody else then Chartwell Green is a real showstopper.
We also have finishes that perfectly imitate timber in both appearance and texture such as an oak or darkwood effect, a look that's achieved by undertaking a specialised colour application process.
Masterly crafted handles…
The prominent handles on our composite doors are such because our skilled craftspeople have put their hearts and souls into their look - they're so attention-grabbing.
Several handle styles have been created and they're all very different. You have your classic handles, but also a few unusual handle offerings to ensure there's something for everyone.
You can accessorise many elements of a composite door...
The importance of dependable and aesthetically pleasing hardware should never be underestimated. All visible handles, hinges, letterboxes and locking systems need to perform to a similar level as the frame itself and look the part so that the right impression is always created upon those who visit your home. Matching your hardware to the overall door design is made simple as several colour variations are available, including traditional and contemporary finishes.
REQUEST YOUR FREE DOOR QUOTE
Simply fill in your details for your free, no obligation quotation, and click "Get Quote"
OUR FINANCE CALCULATOR
See how affordable your home improvement can be with our Finance Calculator.
NEED MORE INSPIRATION? REQUEST A BROCHURE
Simply select the brochure(s) you would like to browse, fill in your details, and then click 'Download'.
Step 1 - Please select the brochure(s) you would like:
Our friendly team will be pleased to help with any questions you may have.