What's the difference between a conservatory, orangery and an extension?
We're asked this question a lot! Truth be told, the blurring of the lines has become so vast now that a living space can be anything you want. A traditional conservatory is mainly made of glass – glass roof, glass walls etc. – giving you fantastic aerial and garden views. Since the development of the tiled roof, most conservatories come with this form of covering and have dwarf walls to help keep the space well-insulated. Various types of solar control glazing are also available to prevent any temperature regulating issues.
An orangery has a luxurious feel thanks to its brick or aluminium pillars, which also keep it warm and private. Your typical orangery also has an internal pelmet around the roof perimeter which also contributes to the insulating qualities of the design. As for its roof, you can request a glass lantern, solid tiled roof, or solution that combines the best attributes of the two.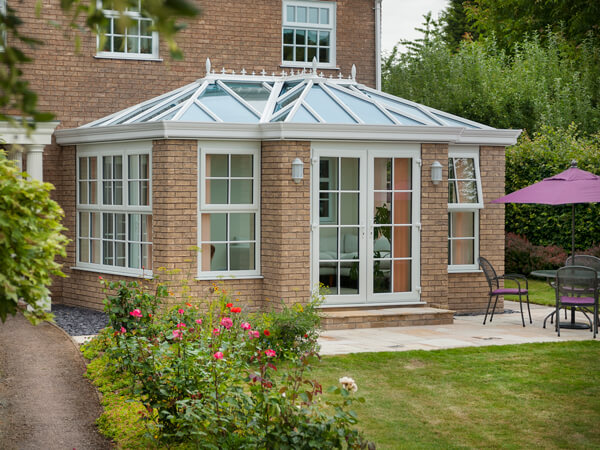 The main advantage of a home extension is that it will be designed and configured to look like a natural extension of a house. Usually, it will encompass a solid tiled roof and come with a large amount of brickwork, but you can have a hybrid roof that features large glass panels and / or Velux windows to offer the sun a passage into the design. It's the year-round useability of an extension that explains its widespread appeal amongst homeowners keen to grow their property.
Does it really matter what you call it? We don't think so. With the assistance of Visual, you can have something truly unique.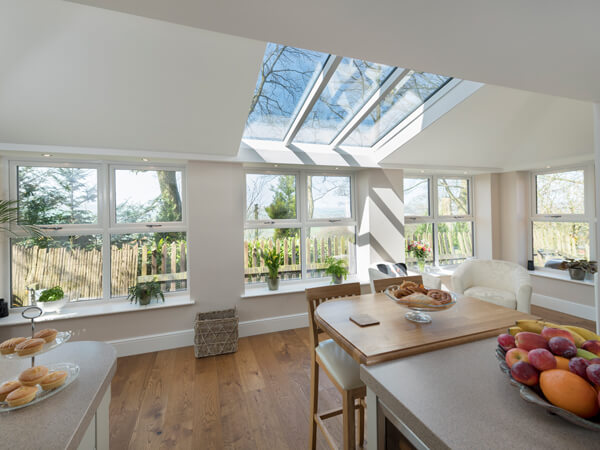 Would I be better off with a tiled or glass roof?
It's difficult to say as it will be dependent on how you intend to use the space, the direction it faces and how much money you can spend on it. If you want lots of light coming and a great view, the good news is that solar control glazing is extremely sophisticated and clever, so it will do a fantastic job of keeping the space cosy.
To get year-round use out of an extension, a solid tiled roof should in the running, particularly as it can come with full length glass panels or Velux windows, giving you a mixture of a solid and glass roof and the respective benefits of both roof types.
A Visual advisor can offer guidance on the most suitable roofing options for your budget.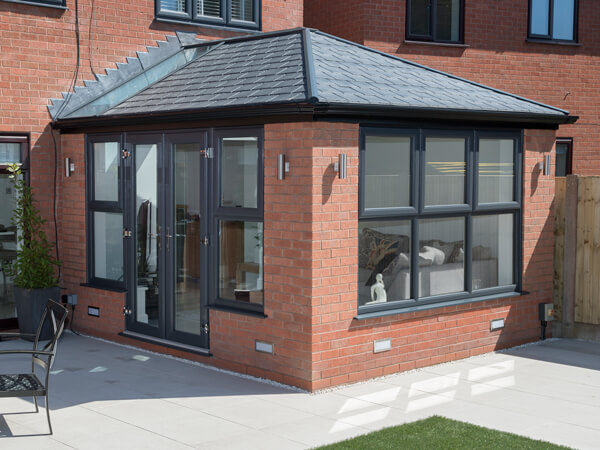 MORE COMMON QUESTIONS
You can fire any questions that you have at our knowledgeable advisors. Some of the questions they receive most regularly are answered below.
Will it suffer from overheating issues in summer?
Our living spaces are all designed to offer year-round usage and comfort in any weather. No longer are you left with a conservatory that burns up like a greenhouse in summer because of the ineffective performance of a basic polycarbonate roof. Solar control glazing will have a lasting impact, but for the most reassurance, it's worth asking for a tiled roofing system to be incorporated.
Do you make your own roofs?
Yes, we do. Visual is a member of the Conservatory Outlet Network and Conservatory Outlet just happens to be one of the biggest and best roof manufacturers in the country. The roofs are built in Conservatory Outlet's state-of-the-art manufacturing factory located in Wakefield, West Yorkshire.
The close ties we have with our manufacturer helps us to monitor our supply chain and ensure that our product range is always exceptionally good.
Can you have different roof riles to match your home?
We offer that option, yes. Visual has a great stock of shingle and slate roof tiles in its range and will happily match the roof tiles to your existing tiles, if you wish. A series of flat membranes are also available. Have a chat with a Visual advisor for further information.
I've heard about energy rated windows, but what exactly are 'A' rated windows?
A set of A rated windows are the most energy efficient windows that you can buy in the UK, as defined by the BFRC Rating Scheme. All replacement windows in the UK are rated in this way and it provides confirmation of whether new windows comply with current building regulations.
If you've recently bought any white goods e.g., fridge, freezer, washing machine, you will have noticed that they are also labelled for their energy efficiency. Being aware of the energy efficiency rating of a window helps you to make a more informed choice and know the standard of efficiency offered.
What is solar control glazing?
The clever coating on the glass in our solar control glazing stops too much heat from coming into your space and retains the heat that you need. It can be tinted in various ways, and this will influence light transmission and heat retention. If you want to know more about the effectiveness of solar control glazing, just talk to a Visual consultant and they will provide the relevant guidance.
Is it possible to brick match?
Visual will make a concerted effort to find a brick that has a close resemblance to your current brickwork, ahead of the final build. Be advised that there can be weathering differences between new and existing bricks. If we have difficulty finding a suitable matching brick, your new brickwork can be tinted accordingly, but this will come at a charge.
Will building regulations approval be necessary?
Generally, you do need building regulations approval when extending a property. Certain extensions are exempt though. One of our surveyors will be able to clarify things and inform you of what you do or don't need to do before you have an extension built. If building regulations approval must be obtained, you can leave it in the capable hands of Visual to arrange this.
Do I need planning permission?
When your extension falls under Permitted Development Rights, you do not have to apply for planning permission, so long as these conditions are satisfied:
The ground area covered by the extension and any other buildings within the boundary of the property, excluding the original house, is not more than half the total area of the property.
Any part of the extension is not higher than the highest part of the roof of the existing house.
The eaves of the extension are not higher than the eaves of the existing house.
Any part of the extension does not extend beyond any wall facing a road if it forms the principal or side elevation of the original house.
The eaves are no more than 3 metres in height if any part of the extension is within 2 metres of the property boundary.
The materials used in exterior work, except in the case of a conservatory, are of similar appearance to the existing house.
An upper floor window on a side elevation within 15 metres of a boundary with another house is obscure glazed; and is non – opening unless the parts which can be opened are more than 1.7 metres above the floor of the room in which the window is installed.
A side extension does not exceed 4 metres in height or be wider than half the width of the original house.
In a single storey extension

the extension does not extend beyond the rear wall of the original house by more than 4 metres for a detached house or 3 metres for any other type of house;
the height of the extension does not exceed 4 metres;
no part of the extension is within 3.5 metres of any property boundary with a road opposite the rear wall of the house.

In an extension with more than one storey

the extension does not extend beyond the rear wall of the original house by more than 3 metres;
no part of the extension is within 7 metres of the property boundary opposite the rear wall of the house;
the roof pitch of the enlargement is as far as practicable the same as that of the original house.

If you live in a house within a conservation area, World Heritage Site, area of outstanding natural beauty or National Park-

no part of the exterior of the house is clad with stone, artificial stone, pebbledash, render, timber, plastic or tiles;
the extension is not more than 1 storey or 4 metres in height;
no part of the extension extends beyond a principal or side elevation of the original house
How long will the construction of a living space take?
It's difficult to provide an accurate timescale as it will ride on the complexity of the project and whether planning permission needs to be obtained first. Request a copy of our 'What happens next' guide to get a rough idea.
What is a test dig?
A test dig will be conducted to check that the ground conditions are suitable for a traditional concrete base and foundation before any building takes place. If it's unsuitable we will suggest an alternative foundation proposal, such as a specialist pile foundation or concrete raft.
What is the purpose of a cavity tray?
A cavity tray is a series of high-level damp-proof courses that bridge a wall cavity to direct moisture to the external face of a wall where the extension roof joins the house wall. It's job is to stop any moisture that penetrates the outer wall of an extension from appearing inside the structure.
Do you offer finance to help me pay for for my new living space?
Yes. To make life easy for you, Visual can arrange a variety of affordable and convenient easy payment finance options (subject to application & status). Applying for finance is simple and we promise you a quick decision. Everything can be sorted out with you in the comfort of your home or at your local Visual Showroom, so you can enjoy whatever you've set your heart on right away.
What do we need to do when our finance is approved?
If you're arranging your own finance, you'll need to call us as soon as you get the go ahead. If you're taking up one of our offers, the company will tell us both directly, so there's no need to call as we will get in touch with you.
What happens if finance is refused?
Finance companies can turn down people for lots of reasons, for example if you've moved several times over the past few years. In these circumstances, we always do our best to help and sometimes it's worth trying another provider, especially if they know you.
I've applied for finance with Visual. How long will approval take?
Sometimes our finance company will say 'yes' almost immediately and on other occasions it may take them a few days. This short delay can be for any number of reasons and you should not be unduly concerned.
OUR FINANCE CALCULATOR
See how affordable your home improvement can be with our Finance Calculator.
NEED MORE ANSWERS?
Simply fill in your details below and one of our customer advisors will get in touch to answer any of your questions.
Our friendly team will be pleased to help with any questions you may have.